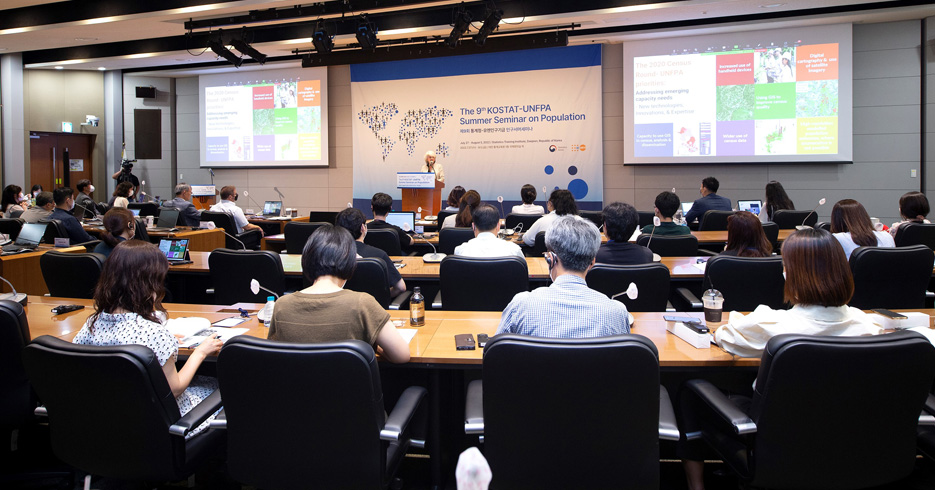 The Summer Seminar on Population was originally launched by the East-West Center (EWC) in 1970. It earned its reputation as a renowned set of seminars on population-related issues and continued until the 42nd Seminar in 2011. In 2013, the Summer Seminar on Population was transferred from the EWC to Statistics Korea (KOSTAT).
KOSTAT launched the first KOSTAT Summer Seminar on Population in 2014 and is continuing to conduct the program annually as a part of their International Population Statistics Cooperation Project to contribute to the development of population statistics and allow experts from around the world to exchange knowledge and experiences.
Since its fourth seminar (2017), the Summer Seminar on Population has been jointly hosted by KOSTAT and the United Nations Population Fund (UNFPA) annually as the KOSTAT-UNFPA Summer Seminar on Population.
The KOSTAT-UNFPA Summer Seminar on Population has become an international platform where hundreds of participants from over 20 countries join us to share and discuss population-related issues. It will continue to serve as a forum that will help build professional networks and strengthen the statistical capacities of scholars from around the world by providing an independent and consecutive series of seminars for government statisticians, scholars, and graduate students.
We look forward to your continued interest and participation in our program, and hope this seminar will be an invaluable opportunity to share precious knowledge and experience among experts in their field.